VEN-T BOATS

Introduced at Dealer Expo

17 February 2007

| | | |
| --- | --- | --- |
| | | VEN-T BOATS introduced their new vented tunnel boat at the Dealernews International PowerSports Dealer Expo in Indianapolis on 17 February 2007. |
VEN-T BOATS' 15 foot boat designed by Ingenium Product Development, uses a surface piercing propeller in a vented tunnel, twin rudders and a 26 horsepower air cooled Briggs & Stratton engine for propulsion. Targeting the market for small entry level boats, including those often used for fishing and hunting, VEN-T BOATS entry to the market is inexpensive, runs in shallow water, and unlike many outboards, can run in very muddy water as well (its air cooled engine does not rely on pulling in raw water for cooling).
The shallow running surfacing prop has a protective shroud and is back up under the boat making it safer to people in the water and less susceptible to damage. Safety and damage resistance is further enhanced by twin rudders that "pop up" when going over obstacles or debris.
In addition, the vented tunnel drive has a slow running troll mode, and a very low profile in the rear made possible by the air cooled engine being mounted low inside the boat instead of being hung up in the way like most outboards that obstruct fishing from the rear.
Ingenium Product Development reports the VEN-T BOATS is currently in market and field testing and is expected to be in full production within 12 months.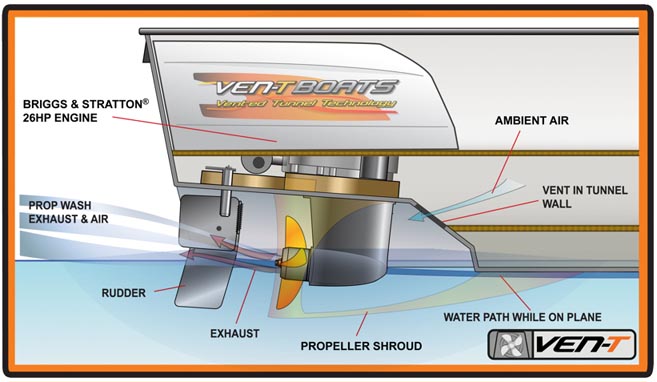 Graphical Overview of Propulsion System courtesy of VEN-T BOATS.

A press release announced the new VEN-T BOAT:
Press Release: February 22, 2007
Ingenium Product Development introduces "Vented Tunnel" boat. 

Allenton, WI -- February 22, 2007-- Ingenium Product Development, a
turn-key product design firm, has introduced a revolutionary new boat
package at the Indianapolis Dealer Expo on February 17th., 2007. The 15'
boat, which utilizes an air cooled 26hp Briggs and Stratton engine, is
coupled to an industry changing "Vented Tunnel" propulsion system that
is designed to protect the gearcase and most of the propeller in a
shroud located behind a keel. The new boat/motor/trailer (BMT) package,
is targeted directly at the entry level boater.

According to Dave Gruenwald, V.P. of Engineering for IPD: "Our goal 
is to bring new people into boating.  If you don't bring them in, they 
can't move up to buy other boats and engines. Statistics prove that 
once a person enters into boating , they will buy 5 more boats over 
their lifetime. But boating participation has been on a general decline 
since the mid 80's when Bayliner was the last company to make a 
significant impact on entry level boating. One of the primary causes 
of that decline is that the cost of a new BMT package has gotten out 
of reach for the average consumer.  According to a recent article in 
Composites Manufacturing Magazine the average cost of an outboard boat 
sold for $10,144 in 2001 and for $15,006 in 2005.  An increase of 48%. 
We aim to change that. By using the low cost Briggs and Stratton engine 
and joining it to a revolutionary new form of the proven POWER-VENT 
propulsion system, we have made a boat "for the rest of us".

This boat is easy to use, easy to maintain and most of all, it's 
affordable.  It requires virtually zero maintenance, there is no end 
of year winterization, no water pump to burn up and virtually no 
possibility of engine overheating. In addition and just as exciting, 
the fully shrouded propeller has been raised vertically up into the 
hull to enable the craft to run in only 12 inches of water and unlike 
Waterjets, that can plug with weeds, any debris that does enter the 
shroud can be blown out by the operator by simply putting the drive 
in reverse! The boat package is currently in Market and field testing 
and will be in full production within 12 months. "Further information 
can be found at www.ven-tboats.com.

About Ingenium Product Development

Ingenium Product Development is a full service, highly creative product
development firm providing turn-key industrial design, engineering and
prototyping solutions. Established in 1997, they are quickly becoming
one of the top product development companies in the Midwest, with
customers such as: Harley-Davidson, Briggs & Stratton, Mercury Marine
and European Touch.



More information is available from:


Return to Recreational Boat Building Industry Home Page
---