An SOS From Outboard Marine
Business Week
2 June 1997 Page 70
by Richard Melcher in Chicago
RBBI Note - this brief was an insert in a larger article about Brunswick titled, "Brunswick Wades into New Waters" in the same issue.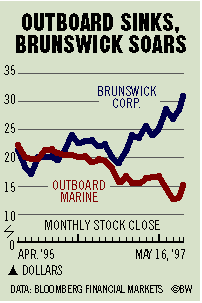 They were hired within months of each other, with strong marketing backgrounds and a mission to improve their boating units and explore new opportunities.
The comparison ends there. While Chairman and CEO Peter N. Larson revs up Brunswick Corp.'s boats and engines and steers into new ventures, Harry W. Bowman, his counterpart at archrival and neighbor Outboard Marine Corp., has seen his core businesses sputter. After churning up red ink or flat earnings in five of the last seven years--including a $10.4 million loss on $1.1 billion in sales for 1996--OMC has hired Salomon Brothers Inc., and by midsummer it hopes to find either a partner or a buyer.
TIMING. Bowman's lack of success at the Waukegan (Ill.) company is certainly not for want of trying. A former senior executive at Whirlpool Corp. who once headed its European unit, Bowman has taken what competitors and dealers say are essential steps. Although Outboard Marine boasts such famous brand names as Johnson and Evinrude engines, it suffered from archaic manufacturing and accounting systems. Meanwhile, poor marketing was hurting its name among dealers and customers. So Bowman replaced nearly two-thirds of the top 36 managers, streamlined operations, and conducted focus groups with customers.
But OMC's problems proved intractable. Like Brunswick, OMC pushed into the boat business in the 1980s, acquiring such brands as Chris-Craft and Seaswirl. ''OMC started snapping up boat companies that simply weren't very well run,'' says Mark R. Duchow, president of Gurnee (Ill.) Duchow's Boat Centers. Also, OMC focused on outboard engines for smaller boats just as the industry shifted to inboard motors and larger boats.
''No sooner did we buy into boats, than we were hit with the boating recession,'' says Bowman, who says OMC had underinvested in new products. ''We've been in the heart of the business [small boats] that's taken the brunt of the recent softness.''
Now OMC is betting heavily on its fuel-efficient and environmentally friendly FICT outboard engine. And it found a solid partner in Volvo AB to help produce inboard engines. ''OMC has a strong franchise,'' says Minneapolis financier Irwin L. Jacobs, chairman of boatmaker Genmar Holdings Inc. Possible buyers for Brunswick range from Toyota Motor Corp. to Volvo--or Genmar, which could take the boats, leaving the engines to another buyer.
Copyright 1997, by The McGraw-Hill Companies Inc. All rights reserved.