Attention Focuses on Houseboat
in Serial Murderer's Death
Andrew Cunanon accused murderer of designer Gianni Versace and four other men, was found dead in a Miami Beach Houseboat late Wednesday 23 July 1997. The houseboat had been under suspicion for several hours and a major swat team exercise was used to board the boat. This "national event" thrusted houseboats into the public eye for a few hours July 23 and 24, 1997. The houseboat was somewhat like the white Bronco in the O.J. Simpson Low Speed Chase. The event was covered intensely by all the national networks. We will present some of the more "boat specific" coverage below.
---
---
Suicide suspected in Cunanan's death
CNN 24 July 1997
portions of this article have been left our
MIAMI BEACH (CNN) -- Andrew Cunanan, the alleged killer of fashion designer Gianni Versace and four other men, was found dead in a houseboat, apparently from suicide. The boat was moored 2 1/2 miles from where the Versace was gunned down last week.

The 27-year-old San Diego native was on the FBI's 10 Most Wanted list and had eluded a nationwide manhunt for nearly three months.

"The reign of terror brought upon us by Andrew Cunanan is over," Miami Beach Police Chief Richard Barreto told reporters Thursday in an early morning news briefing.

He said the thumbprint of the man found dead Wednesday after a four-hour siege by police matched that of Cunanan.

Barreto said he could not immediately confirm that Cunanan had shot himself but said the police had not used their weapons when they stormed the boat.
'Difficult for him to move about'
Versace was shot and killed July 15 at the gate of his oceanfront mansion in the trendy art deco South Beach area of Miami Beach, 40 blocks south of the houseboat's mooring.

Cunanan did not travel far after that, Barreto indicated. "There was an unprecedented level of pressure put on this man by law enforcement, by media exposure (and) by the general public looking for him," he said.

"I think he was a desperate person. He was in a situation where it was very, very difficult for him to move about."

The houseboat -- which sits on a branch of the Intracoastal Waterway called Indian Creek is about a mile from the hotel where a man fitting Cunanan's description stayed for as long as two months before Versace was killed.
Body not found until search
More than 100 police and FBI agents surrounded the floating, two-story home Wednesday night after its caretaker reported a hearing a gunshot when he approached the site about 3:45 p.m. EDT on Wednesday.

Four hours later, officers fired tear gas and six SWAT team members dressed in black flak jackets and armed with rifles and a shield moved in. They met no response and could later be seen leaving in a relaxed manner.

Police had earlier said the houseboat was found empty after an initial search. The body appeared to have been discovered during a later, more thorough search.

Barreto said the tear gas made the initial search more difficult.

According to an unconfirmed report, investigators suspect the shot that the caretaker heard was the suicide shot.
Houseboat owner runs health spa
Records showed the houseboat, which had been vacant for several months, is owned by Torsten Reineck, reportedly a German citizen.

He is listed as the owner of the Apollo Spa, a gay health spa in Las Vegas.

Reineck, a Miami Beach resident according to Nevada records, could not be reached for comment. It's not clear whether he knew Cunanan.

4Cunanan had eluded an intensive nationwide search that generated hundreds of claimed sightings all over the country. He managed to escape capture even though his picture was plastered on television, newspapers, the Internet and wanted posters.
Copyright 1997 Cable News Network, Inc.
---
Houseboat owner runs gay health spa
AP 24 July 1997
portions of this article have been left out
LAS VEGAS - The Florida houseboat where Andrew Cunanan committed suicide is owned by a man who runs a health spa catering to gays, and police were looking into whether he knew Cunanan.

Torsten Reineck is the sole owner of the Apollo Spa and Health Club, a small private business a few blocks east of the Las Vegas Strip, according to the Clark County Business License Department.

A county official said Reineck's license, issued last August, lists him as a resident of Miami Beach, Fla.

Police were unsure how long Cunanan had been staying at the houseboat in the wake of the July 15 killing of Italian fashion designer Gianni Versace, one of five people Cunanan is suspected of killing in the last three months.

The houseboat in Miami Beach appeared to have been vacant for several months. FBI sources in Miami told The Associated Press that agents searched several houseboats in the area over the weekend, including the one where Cunanan was found, but turned up nothing suspicious.
---
Cunanan found dead in houseboat stormed by SWAT team
Fort Lauderdale Sentinel 
24 July 1997
by Evan Perez AP writer
portions of this article have been left out
MIAMI BEACH -- Andrew Cunanan, the suspected serial killer who eluded a nationwide manhunt for nearly three months, shot himself to death in a houseboat just 2 miles from where Gianni Versace was gunned down.

The body of suspected serial killer Andrew Cunanan is taken from a houseboat in Miami Beach on Thursday, July 24. The body was found after a standoff with police Wednesday, and was identified early Thursday.

More than 100 police and FBI agents surrounded the floating, two-story home Wednesday night after a report of a gunshot coming from inside.

Police officers shouted, ``Come out! Come out!'' but the man believed hiding inside did not respond. Officers then fired tear gas and six SWAT team members dressed in black flak jackets and armed with rifles and a shield moved in.

Cunanan's body was found several hours later.

``We were probably prepared for something like this,'' said FBI spokeswoman Coleen Rowley. ``A person who is using desperate means and exhibiting this kind of violent behavior, you have to be prepared for a very violent conclusion.''

Residents near the houseboat had reported seeing a man matching Cunanan's description after Versace was shot to death on the front steps of his mansion. On Wednesday, a caretaker who stopped by the home called police to report a gunshot.

The houseboat is 2 miles from the Versace mansion and about a mile from the hotel where a man fitting Cunanan's description stayed for as long as two months before Versace's slaying.

For four hours police waited outside the houseboat, which sits on a branch of the Intracoastal Waterway called Indian Creek.

After firing volleys of tear gas, the SWAT team walked slowly in a line into the house. After nearly an hour inside, police announced their search had come up empty.

But after another room-by-room search they found the body of Cunanan, who had been described by his mother as a gay gigolo.

Police were slowed by the tear gas and found Cunanan's body several hours later. Barreto said officers never fired a shot. Cunanan suffered a self-inflicted gunshot wound, investigators said.

A source told The Associated Press that the body was found on the second floor of the houseboat, where bedrooms are located. Investigators suspect the shot that the caretaker heard was the suicide shot, the source said.

Records showed the houseboat, which had been vacant for several months, is owned by Torsten Reineck.

According to an FBI agent who asked not to be identified, there is no sign that Cunanan ever knew Reineck.
Copyright © 1997 Sun-Sentinel Company and 
South Florida Interactive, Inc.
---
Police confirm it was Cunanan's body in the houseboat
Miami Herald
24 July 1997
by Frances Robles, John Lantigua, and Martin Merzer 
Herald Staff Writers
portions of this article have been left out
The most exhaustive manhunt in recent history is over. The body of Andrew Cunanan was found Wednesday night by police who stormed a houseboat after a four-hour siege.

Miami Beach Police Chief Richard Barreto confirmed that a thumbprint taken off the body in the houseboat matches that of Cunanan's. The most wanted person in America, the only suspect in the brazen killing of designer Gianni Versace and the slayings of four other men, Cunanan appeared to have died from a self-inflicted gunshot to the head.

The saga of Andrew Cunanan -- accused of a murder spree that touched four states and chilled an entire nation -- ended just 41 blocks north of Versace's mansion, the site of his most shocking crime, an execution-style murder of a world-renowned figure.

Several high-ranking law enforcement sources confirmed that police were nearly certain that the body found in the houseboat was Cunanan's.

Two sources said a .40-caliber handgun, the same type of weapon allegedly used by Cunanan in three of the slayings, was found beside the man's body. They said officers were merely awaiting fingerprint confirmation by forensic specialists. One source said the body was found on the second floor of the houseboat.
Police move in
The dramatic series of events began about 4 p.m. Wednesday, when police special forces -- complete with helicopters, boats and dogs -- descended en masse on the shuttered houseboat at 5250 Collins Ave.

During the siege, police fired eight rounds of combination tear gas-concussion grenades into the boat. They shouted ``Come out! Come out!'' Eventually, eight officers -- huddled behind shields -- stormed the boat.

At 8:03 p.m., before police entered the houseboat, some witnesses heard a muffled shot from inside. That might have been the precise moment that the man believed to be Cunanan took his life and ended a dragnet that galvanized the nation.

In the immediate aftermath of the assault and for nearly three more hours, police indicated that no one had been found inside the house.

``Negative on the initial search,'' one police officer told another in a radio transmission.

``It appears that no one is inside,'' said Miami Beach police spokesman Al Boza.

But authorities later changed their story, possibly as the result of subsequent searches.

No explanation was immediately available for the hours of delay in announcing the end of the most comprehensive search in recent U.S. history, though authorities' desire to notify Versace's family may have played a role.
Stranger inside
Police sped to the scene after a caretaker reported spotting a stranger inside the boat. At first, he said the stranger fired a single shot at him. Later, the caretaker said he wasn't sure about the shot, but he was certain about the stranger.

He identified the assailant as a young man with dark hair, a very general description that did include Cunanan.

As the drama unfolded, police sharpshooters took the high ground in surrounding condominiums and inched close to the houseboat. At one point, they tossed in what appeared to be a telephone trailing a wire. They screamed: ``Pick up the phone! Talk to us!''

Neighbors cowered indoors, cloaked behind drawn curtains. Tourists and business people found themselves trapped behind police lines. Many South Floridians and others around the nation monitored the event on television, magnetized by the possibility -- the hope -- that Cunanan was cornered, about to be caught.

Before long, Metro-Dade tactical specialists slipped close, seeking cover behind nearby bushes and behind a red Ford Explorer truck parked in the driveway. Helmeted, carrying 12-gauge shotguns and small submachine guns, wearing bulletproof vests, their black T-shirts emblazed with the word SWAT, they held their position, surrounding the place, crawling ever closer.
FBI joins the vigil
FBI agents joined the vigil, some of them still dressed in white business shirts now shielded by protective vests. Platoons of Miami Beach officers also took position. A police boat stood sentry 100 feet away.

Officers blocked traffic along a milelong stretch of Collins Avenue, stranding thousands of people. Boats were prohibited from passing through Indian Creek. Everyone was warned to stay out of the line of fire.

Then, for a time, a haunting silence, an ominous stillness descended on the area.

``This is a crazy town,'' said Dave Ziegelman of Orlando, visiting the area on business, now unable to leave the neighborhood. ``The entertainment is free.''

It was not known how or when Cunanan gained access to the two-story, two-bedroom houseboat, which is owned by Torsten Reineck, according to public records.

Some broadcast reports said Cunanan and Reineck knew each other; one report claimed that Reineck was afraid of Cunanan and fled the country to avoid him.

A friend, interior designer Ron Bourne, said the boat has been vacant since Christmas and Reineck has been in Las Vegas for months.

Public records showed that Reineck owns a Las Vegas club called the Apollo Health Club and Spa that caters to gays. A worker at the club said Reineck has been in Germany. He also said that no one remembers Cunanan or Versace ever visiting the club.

Bourne said Reineck had been trying to sell the houseboat for some time. Asking price: $250,000.

The ground floor is dominated by a living room and a dining room, Bourne said. The upper floor contains the two bedrooms and a bathroom.
Quiet quarters
Silvana Liberte, a tourist from Argentina who is staying in the nearby Alexander condominium, said she had seen no activity in or near the houseboat during the past week.

``For the whole time we've been here, all these days, that house has had no lights,'' she said. ``It was dark and you saw nothing.''

But other local residents and workers said they recently reported several suspicious events in the area, events that apparently contributed to officers' suspicions about the boat.

Tennis pro David Todini of the Carriage House Racket Club said he believes he saw Cunanan the day before Versace's murder, walking near the club at 5400 Collins.

Guillermo Vople, owner of a sailboat docked near the houseboat, said he discovered on the day after the Versace murder that someone had been sleeping in his boat.

He called police, who swept the place for fingerprints and removed some articles left behind. Volpe wouldn't say anything else, citing a request from police that he not discuss the case.

But Todini quoted Volpe as saying that he might have seen Cunanan last week sitting on a bench in a nearby park.

Cunanan, 27, was believed by police to be the man who slipped behind Versace last Tuesday morning, pumped two bullets into his head and then evaporated into the city. Versace, an artist recognized around the world, died on the front steps of his elegant villa on Ocean Drive.

Cunanan also has been charged or implicated in the deaths of two friends in Minneapolis, an elderly man in Chicago and a cemetery worker in New Jersey. In nearly every case, Cunanan stole his victims' vehicles, leaving them behind at the scene of his next alleged crime.

The cemetery worker's pickup truck was found last week in a garage just blocks from Versace's mansion. That truck provided many clues for detectives, including a receipt linking him to a gold coin hocked at a Miami Beach pawn shop.

A clerk at the shop, workers and residents of the nearby Normandy Plaza hotel and many others in the neighborhood reported seeing Cunanan before the slaying of Versace. No confirmed sightings were reported since Versace's death.
Most wanted list
Cunanan has been on the FBI's 10 Most Wanted List for months, but the manhunt attained critical mass in the past week. His picture has been published in virtually every newspaper in America, his image transmitted during nearly every televised news broadcast. More than 1,000 tips flooded into police hotlines.

Yet, Cunanan -- believed to be short of cash but known to have the ability to camouflage and even change his appearance -- continued to elude his pursuers. At one point, police said he could be masquerading as a woman.

Meanwhile, real or imagined sightings continued unabated, both near and far.

In recent days, police were alerted in Michigan, Maryland, Wisconsin, New Hampshire, North Carolina and South Dakota. None of those sightings were verified.

By all indications, Cunanan never roamed farther than two miles from the front steps of Gianna Versace's villa.

Herald staff writers Pedro Acevedo, Ana Acle, Tom Dubocq, Gail Epstein, Patty Fernandez-Rocha, Debra Franco, Manny Garcia, Rick Jervis, Adam Ramirez, Marc Siegal and Andres Viglucci contributed to this report.
Copyright © 1997 The Miami Herald
---
Versace Family to Sue over Photographs
Houseboat Sinks
Miami FL AP wire story
Tuesday 30 Dec 1997
story summarzied by Gary Polson of RBBI
Several files and photographs regarding the murder were to be released to the public on Tuesday and the family was fighting to protect some of those documents from the public.

The story also mentions that "On Tuesday, dozens of people poked through a yard sale of items taken from the houseboat where Cunanan hid before his death. The houseboat began taking on water a week ago and sits on the bottom of Indian Creek."
---
Area Map and Houseboat Photos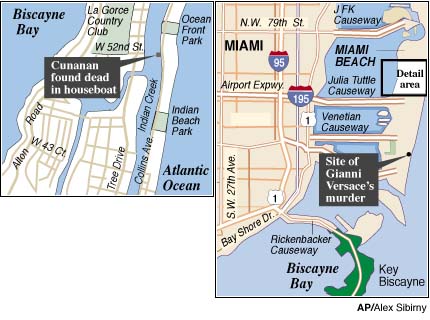 CNN 24 July 1997
---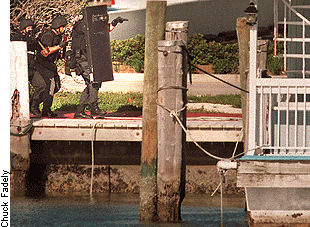 Miami Herald 24 July 1997
---
CNN 24 July 1997
---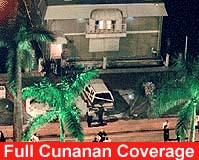 USA Today 24 July 1997