Sea World Boating Accident Coverage 25 August 1996

This is a 26 August 1996  CNN News Report from their website

Driver, company charged in Sea World accident
AURORA, Ohio (AP) -- The driver and the owners of a stunt boat that slammed into a grandstand at Sea World of Ohio, injuring 23 people, face charges related to the boat's operation, officials said Monday.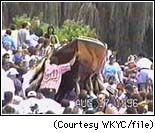 Andrew R. Schleis was driving the boat August 17, 1996, when the steering mechanism broke and the 1,500-pound boat slid five rows into the bleachers. Investigators said the boat was missing a part of its steering controls.
Schleis, 25, of Kent, was charged with failing to operate at a safe speed for the conditions and failing to turn off the motor when the steering failed.
The owner of the boat, World Entertainment Services Inc. of Winter Park, Fla., was charged with three marine regulation violations unrelated to the accident but discovered during the investigation.
Copyright 1996 Associated Press. All rights reserved. This material may not be published, broadcast, rewritten, or redistributed.