Zodiac Press Conference
at IMTEC 1997
25 Sept. 1997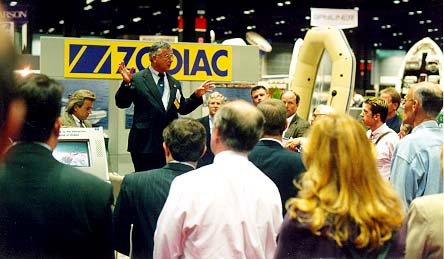 J.J. Marie, president and C.E.O. of Zodiac of North America announced that Zodiac International is expanding in North America with the formation of its first U.S. manufacturing division to build boats specifically for the North American market. He also announced that Yamaha will be the supplier of engines for Zodiac sport RIB built in the new facility.
The manufacturing division will be based in Columbia Mississippi and includes a 23,000 square foot building and warehouse facility. He mentioned something about them having an existing parachute factory there and that the location was fairly remote. An executive from Yamaha in the crowd, said they were very happy with their new engine supply agreement with Zodiac.
The "press kit" mentioned that Zodiac had been involved with the parachute used on the recent Mars Pathfinder mission. Zodiac's Pioneer Aerospace subsidiary designed and produced the chute. A total of 8 were produced. One for the mission, a spare, and 6 for testing. The president was quoted as saying, "I guess we can say Zodiac has gone from an international company to an interplanetary company." I was impressed.
I selected their 1998 brochure as the "Best OEM Brochure". A description of it is on our RBBI Awards Page.
Sample pages from
1998 Brochure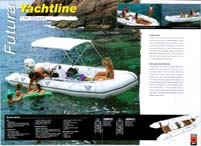 Click on the image for a larger view

Zodiac Photography Guidelines
Their press kit included a one page guide of instructions for photographing Zodiac products for use in publications. I thought it was exceptionally well done and would encourage other manufacturers to develop similar sheets specific for their situations. It makes some very good points and makes sure that boating safety is not "slighted" in the photos. The piece is reproduced below.
A Message on Photography ... From Zodiac of North America
Everyone is interested in boating safety. We at Zodiac recognize a responsibility to ensure that our boats are properly and safely depicted whenever they are represented. With that in mind, we have developed the following general guidelines for photography, video scenes and illustrations of any Zodiac product used for promotion, public relations, advertising and any other representation for the company. We hope that you, too, will find these guidelines useful. If we can be of assistance, please contact us.
General Rules:
No drinking and driving. It probably goes without saying but, please, no alcoholic beverages shown while operating Zodiacs.

Boats need to be in compliance with regulations. Please double check with local authorities prior to any photo session to be sure that you are in compliance.

No actions that are in violation of boating, fish and game, and other regulations.
Boats Not In Motion
Scenes include boats at anchor, moored, on the beach, car topped and any other circumstances showing a boat not moving through the water.
People may be shown without PFD's on, but it is helpful to have PFD's in the picture.

No one should be shown in a boat in davits.
RBBI comment: a davit a "crane" used to lower a boat over the side to the water.

Make sure the boat is not overloaded or overpowered.
Boats In Motion
Scenes include boats under motor or oar power, floating, being towed, or under sail.
All people in or on a Zodiac must be shown wearing a personal floatation device. It may be inflatable, belt positioned or any such items available on the market.

Boats may not be overloaded or overpowered.

People may not sit on tubes above steerageway speeds (5 mph).

People may not stand or appear to be standing unless they are in a boat equipped with a "stand-up console" arrangement.

No bow riding. Individuals may sit in the bow, not on the tube, of a boat moving at slow speed, being rowed or floating.

no wake jumping (it is illegal in most areas). A boat may be shown "jumping" off a wave when it is not represented as part of a boat wake (check regulations).

Use of the safety stop switch lanyard is required whenever a motor is in use.
Thank you for your help in promoting safe boating.
Zodiac of North America, P.O. Box 400, Stevensville, MD 21666 . (410) 643-4141

Return To RBBI IMTEC97 Navigation Page