Marine Design Resource Alliance
IMTEC98

The Marine Design Resource Alliance is research group financed by several manufacturers. I think it is a great idea, but seems like not many are participating . The idea is to do some more far reaching things from a design standpoint, build concept boats and obtain feedback. They also do some great work in promoting boating. Problem is they only have a few members, Volvo Penta is the only drive builder. Other members are fabric, graphic, vinyl, and accessory manufacturers. As a result, one of their big pushes in this years "packet" is "hottest trends in colors and textures." This may be interesting stuff to some, but I think boating has a lot bigger problems that should be addressed first.
One program they run is "Draw Kids into Boating." They encourage children in the 3rd through 5th grades to involve family members and design boats. This is a great idea. Their booth showed some of the designs proposed by the children. It gets them and their family's thinking about boating. RBBI idea - Why not copy the incredibly popular Pine Wood Derby from scouting and come up with a model boat race? Boat dealers could run it locally with local winners moving up to state and national competitions? Might use Pop-Pop boats? Scouting already has a connection to them.
Cobalt displayed a concept boat developed in conjunction with the MDRA called, Pendolare (from the Italian for "commuter.") The 18 foot half scale model represented a 36 foot twin I/O powered full scale unit. Cobalt is displaying the unit nationally at boat shows.
They had a CD in their "packet" that included some photos MRDA's "Tango" concept boat. They were in tiff format (hard for most people to display) and the images ranged in size from 28 to 82 megabytes. For too big to handle on my hard drive strapped machine. They need to consider their audience better - the big tiff files work great for publications and the press, but not for dealer and boat builder desktop machines. They should have put some jpg files on the disk for consumer machines to read.
I also noticed the complete lack of a web site URL or email address on any of their materials. Seems hard to believe someone trying to promote this type of an effort would not make use of the internet?? It could be a great tool for "spreading the word," especially for reaching school children and displaying their art.
MRDA certainly has a worthy purpose, perhaps with the addition of several more members they could make a more substantial impact. Good luck to them !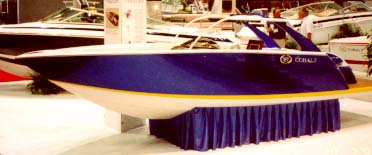 Pendolare Concept Craft

Return To RBBI IMTEC98 Navigation Page